I know from experience that most "pinners" (those who use Pinterest on more than a regular basis…) are female. My followers are both male and female, but I'm sure some of these "pins" I am listing will spike anyone's interest. Pinterest really is amazing. I have used many recipes and craft ideas! So without further adieu, here are my top pins of the week, July 19, 2015-July 25,2015. **Note, not any any particular order.**
Lemon Crinkle Cookies @ Tasty Kitchen
Ok, these things are the bomb diggity. No other words can explain how AMAZING these things taste. I have never had lemon cookies before (at least not that I can remember). This recipe was SO easy to make. Below is a picture of what I made…I didn't get the crinkle affect (which is what I've been working on the past few days), but they tasted so dang good! Perfect for Spring and Summers! You can find the pin, here.
Crochet Fish Scrubbie Washcloths @ One Dog Woof
Ok, so crocheting is pretty dang easy, entertaining, and you get great stuff out of it! I personally LOVE crochet face scrubbies, washcloths, and dish scrubbies. The difference is all in the type of yarn you use (but you can figure that out by reading around). These fish scrubbies are ADORABLE. Seriously. I am going to try them this weekend. Pictures to come. This pin can be found here.
Easy Cheesy Garlic and Herb Breadsticks @ Serena Bakes Simply from Scratch
I have been making homemade breadsticks for years. I have ALWAYS complained about how doughie and thick they become. Never once did I think, "Hey, how about you slice the dough really thin, dip it in some oil/butter, then in a cheesy her mixture?" Pure genius right here, folks! This pin can be found here.
Fried Macaroni & Cheese Bites @ Mommy Musings
We still have a whole week left in July. I don't know about anywhere else, but down here in the South, the first two weeks of August are usually the hottest of the year, and from Aug 1-Oct 1 people will be grilling out every chance they get before our colder weather hits. These easily "popable" sized bites of oohey gooey cheesy goodness are just what you need at a BBQ or party. Find the pin, here.
Oh! For fox sake! Mug found at CoralBel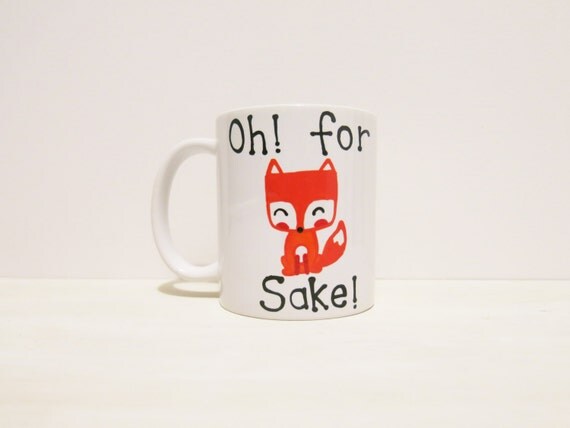 Ok, so this isn't a recipe or craft, but I have been collecting unique mugs over the past year and I LOVE this one. The seller has quite a huge selection and her prices aren't too bad! Find this pin here.
Well, these were my top pins of the week! From recipes to cute mugs, Pinterest has allowed me to expand my culinary skills, collections, and crafting ideas. I hope you all have a great weekend!